Old-Fashioned Laundry Powder, with Essential Oils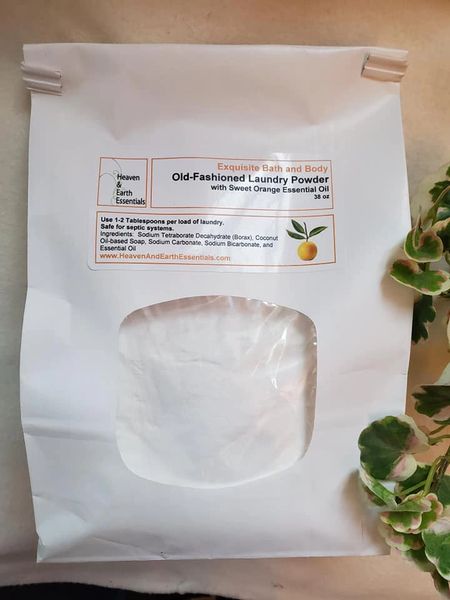 Are you tired of using laundry detergent that smells like flowery chemicals?  We have an old-fashioned solution for you!  We make our laundry powder by hand and add only essential oils--you select the scent.  Add 1 to 2 tablespoons to each load of laundry--it cleans like the dickens (my Grandma used to say that all the time).

One package is 38 oz (that's 2 pounds, 6 oz), and that should do tons of laundry, using only one or two tablespoons at a time!
(If we don't list the essential oil you would like, or you would prefer one of our fragrances, please let us know--we'll be glad to add something different.)

Note:  You can also specify "Unscented" for a totally natural scent.  Our recipe is very gentle and perfect for sensitive skin or those with allergies.  Safe for septic systems too.

Ingredients:  Sodium Tetraborate Decahydrate (Borax), Coconut Oil-based Soap, Sodium Carbonate, Sodium Bicarbonate, and Essential Oils if desired.