Sleek and Smooth Hair Conditioner/Detangler, 4 oz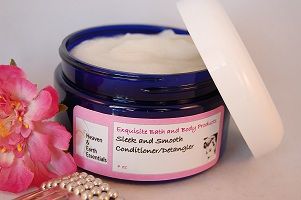 Another request from one of our friends and Enablers! Her young daughter has long, thick, beautiful hair, but she has a horrible time combing through it after it is washed. Of course, we had her test our Detangler first and she loves it! It really does make your hair very easy to comb through, and it doesn't pull your hair, the comb just glides through. We make this ourselves in small batches; the Panthenol, Hydrolyzed Oats, and Plantago Extract help to hydrate and smooth the cuticle of the hair to prevent damage, and the Coconut Oil helps to detangle the hair.

Please select your desired fragrance.

Contains Purified Water, Plantago Extract, Conditioning Emulsifier, Panthenol, Hydrolyzed Oats, Extra-Virgin Coconut Oil, Natural Preservative, and Essential Oil and/or Fragrance as desired.