Tower/Obelisk: Rainbow Aura Quartz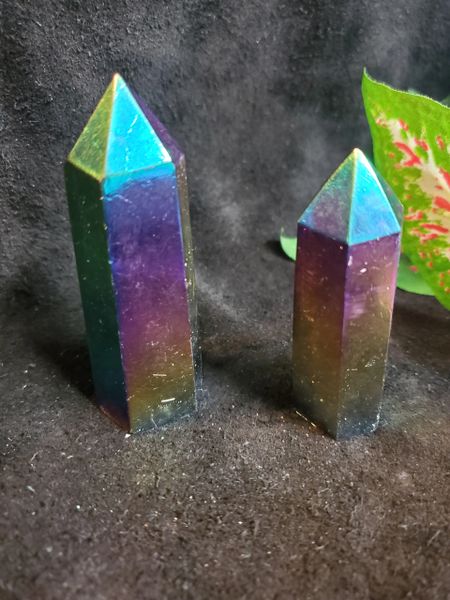 You will receive the exact crystal you select.  Left:  3.25" from base to point, and 1.25" at its widest.  Right:  2.875" from base to point, and 1" at its widest.
Rainbow Aura Quartz is Quartz that is treated by fusing Titanium crystals to it with heat and vacuum to give it its gorgeous rainbow coloring.  It is the stone of astral journeys, has a high energy, and is helpful for removing energy blockages, especially those impeding creativity.  It can open and empower all the chakras, and assist in stimulating and raising Kundalini energy.  Aura Quartz is said to activate the Third Eye and assist with clairvoyance, reading people, and other psychic activities.  Physically, this stone can be used in healing for vitality, strength, eyes, brain, ears, and central nervous system.  Wearing or carrying one of these crystals can make one feel grounded, centered, and energized all at once.