Tower/Obelisk: Blue Aura Quartz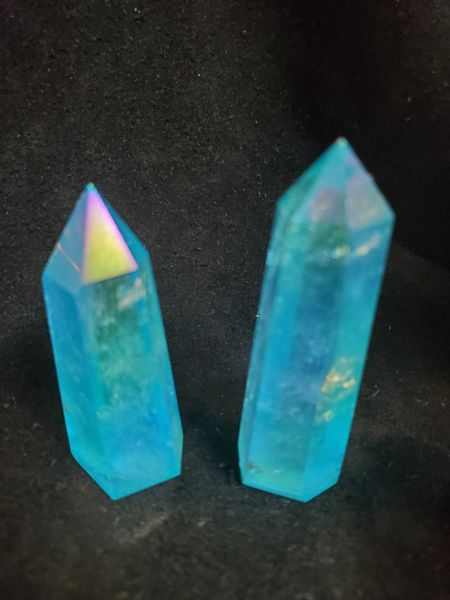 You will receive the exact crystal you select.  Left:  2.75" from base to point, and 1.125" at its widest.  Right:  3" from base to point, and 1" at its widest.
Blue Aura Quartz is a natural quartz crystal that has been coated with pure gold vapor in a process called vapor deposition.  Blue Aura Quartz has an energy that can enhance one's intuition and communication, calm one's nerves, and energize one's mental abilities.  It is said to help one's inner beauty to shine, and to attract wealth and success.  It can increase the ability to send energy and alter consciousness for meditation, telepathy, and healing. Blue Aura Quartz is highly stimulating to the Throat Chakra, enhancing one's ability to communicate inner truth, as it also has a soothing and relaxing effect on the emotional body.  It can be used to soothe anger, open and clear the throat, and can assist with the thymus gland, which plays a vital part in maintaining the body's immunity against disease.