Whipped Sugar Scrub, 4 oz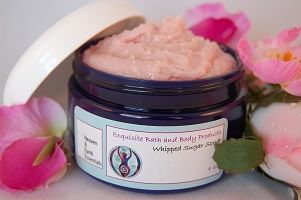 This is Barbara's personal favorite, with wonderful ingredients such as Organic Cane Sugar and Jojoba Oil. It is a scrub that is simply beautiful and effective!
Upon contact with water, this unique formula emulsifies into a creamy lotion scrub, leaving you completely moisturized and exfoliated with no greasy residue. This creamy formula also allows you to scoop it (consistency of spreadable frosting) without a mess, or losing a majority of the product. And no slick tub mess!

Please select your desired fragrance.

Contains Organic Cane Sugar, Shea Butter, Emulsifying Wax, Palm Stearic Acid (Vegetable Derived), Sweet Almond Oil, Grapeseed Oil, Sunflower Oil, Golden Jojoba Oil, Glycerin, Natural Preservative, and Essential Oil and/or Fragrance as desired.